Don't Flip Out! Flip In! Grab a Pair of Flipsockz TODAY!
No longer will you "flip" out over rocks, grit or snow getting stuck in your boots. Now you can flip in! Grab a pair of Flipsockz today and stop irritating debris from getting trapped in your boots.

Thick Socks
The thickness of Flipsockz helps prevent blisters and irritation. The socks' cushioned soles create a comfortable environment, keeping your feet happy.
Fits Most Boots
Flipsockz' sleek innovative sleeve, stretches over any 3/4 height boot, eliminating debris from getting into your boots as well as keeping your laces tied.

Great for Working Outside
Debris can get trapped in your boots when you are on the job or simply working around your yard. Flipsockz eliminates the chance of rocks and grit getting trapped in your boots.

Stay Dry, Stay Protected, Stay Active.
Who needs the discomfort of debris getting stuck in their boots all day long? With Flipsockz you won't have to worry about rocks, snow and dirt getting trapped in your boots. Flipsockz' innovative sleeve, flips down over your boot top keeping your feet comfortable and dry all day long.
Happy Feet Happy Trails
Enjoy mother nature by keeping her out of your boots.
Keeps Debris Out
Flipsockz' prevent rocks and debris from slowing you down. They're equipped with an innovative nylon sleeve that flips down over the top of your boot, keeping debris out.
Great Quality
Flipsockz are engineered with the best fabrics making them a great quality sock. Our formula, 62% Merino Wool, 36% Nylon, and 2% Elastane has been devised for ultimate comfort.
Function and Comfort
Flipsockz provides ample cushion to the ball and heel of your foot. The extra padding not only boost durability but also ensures all-day comfort.
Regulates Body Temperature
Made of merino wool, Flipsockz helps regulate your body's temperature by serving as an insulator in the cold while remaining breathable in the heat.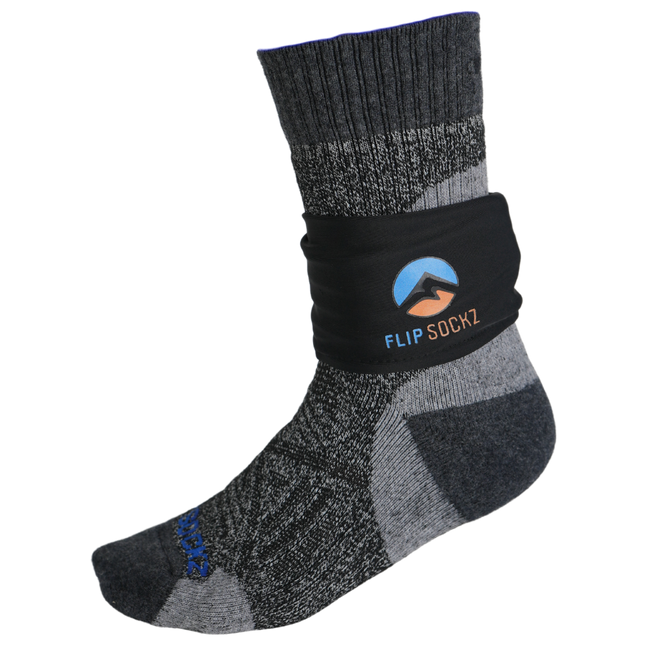 Keep Your Feet Happy!
Buy a pair of Flipsockz today!